International Cooperation and Development Forum in the Kyrgyz Republic 2018
Upcoming Opportunities
Press Release
ICDF Kyrgyz Republic 2018: highlighting business opportunities for the Central Asia Region

On April 17, 2018, international financial institutions and representatives of worldwide development agencies met at the International Cooperation and Development Forum, to discuss upcoming business and development opportunities in the Kyrgyz Republic. The event took place at the Hyatt Regency Hotel in Bishkek.

The goal of the forum was to assist interested companies in identifying the most efficient approaches towards cooperation with international financial institutions while showcasing relevant funding opportunities for the Central Asia Region.

Participants were guided through the criteria that differentiate multilateral development banks and programmes of bilateral banks and agencies. Specific presentations on the World Bank (WB), European Bank for Reconstruction and Development (EBRD), Asian Development Bank (ADB), Deutsche Gesellschaft für Internationale Zusammenarbeit (GIZ), Kreditanstalt für Wiederaufbau (KfW) and the United Nations Development Programme (UNDP) were held at the forum.

Companies also had the opportunity to showcase success stories, innovation pitches and share best practices and challenges in the sector. Amongst them was the International Business Council represented by Executive Director Askar Sydykov, who offered to support the Kyrgyz Republic in carrying out reforms in the judiciary, business, tourism, insurance, and banking sectors, as well as in the mining industry.

The forum concluded with a networking session during which participants discussed development needs and business opportunities for private sector companies.

"Democratic elections in Kyrgyzstan in October 2017 broke the authoritarian trend in Central Asia. A small country landlocked between Kazakhstan, Uzbekistan, Tajikistan, and China, highly dependent on remittances and assistance of International Financial Institutions has been attracting the attention of private sector companies and NGOs from abroad. DevelopmentAid with its event in Bishkek has facilitated networking between such international firms and the local companies and NGOs," said Sergiu Cașu, head of the Business Development Department at DevelopmentAid. "We will continue organizing Development Forums in other countries to bring such companies closer and make development assistance more efficient so that all contractors can bring more value for money in projects they implement."

According to the OECD Creditor Reporting System database, for the period 2010-2016 the disbursed development assistance to the Kyrgyz Republic reached US $3.4 bn. 78.8% came in the form of grants, while preferential loans represented the remaining 21.2% of the total value. Russia, the United States, and Germany are the Kyrgyz Republic's largest bilateral donors, while the Asian Development Bank, the World Bank, and European Union institutions are the largest multilateral donors.

International donor assistance focuses on various areas of the Kyrgyz Republic's economy and society. Most support is provided to assist with initiatives aimed at good governance and democracy. A significant part of the donor assistance is directed towards improving the transport infrastructure as well.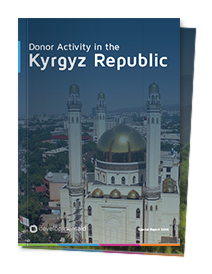 Download Report
Do you want to Exhibit

or

become

a

Forum Partner?
Participants
Financial
Institutions
Government
Representatives
Business Support
Organisations (BSO)
Consultancy
Firms
Sectoral
Organisations
NGOs
Academic
Institutions
Organisers
DevelopmentAid
DevelopmentAid is an European organization that has been providing business intelligence tools and services related to tenders, grants and experts in the field of international development cooperation since 2007 to organizations worldwide. Spearheading innovation, DevelopmentAid has established itself as a leader when it comes to data comprehensiveness, speed, reliability and cost efficiency.
Our non-relenting commitment to quality and our continuous heavy re-investment in our services have turned us into a trusted and preferred information partner with international donors, development banks, NGOs, the private sector and individual professionals.
Location
The forum will take place in

Bishkek Kyrgyzstan

Date, Time

17 April, 2018

Venue

Hyatt Regency Bishkek


191 Abdrahmanov Street
This is a unique occasion to meet and communicate with financial institutions, government representatives, consultancy firms, sectoral organisations, NGOs, academic institutions, etc. interested in donor-funded projects.
Contact
Have more questions?